New F-150 for Sale or Lease in Fredericksburg, VA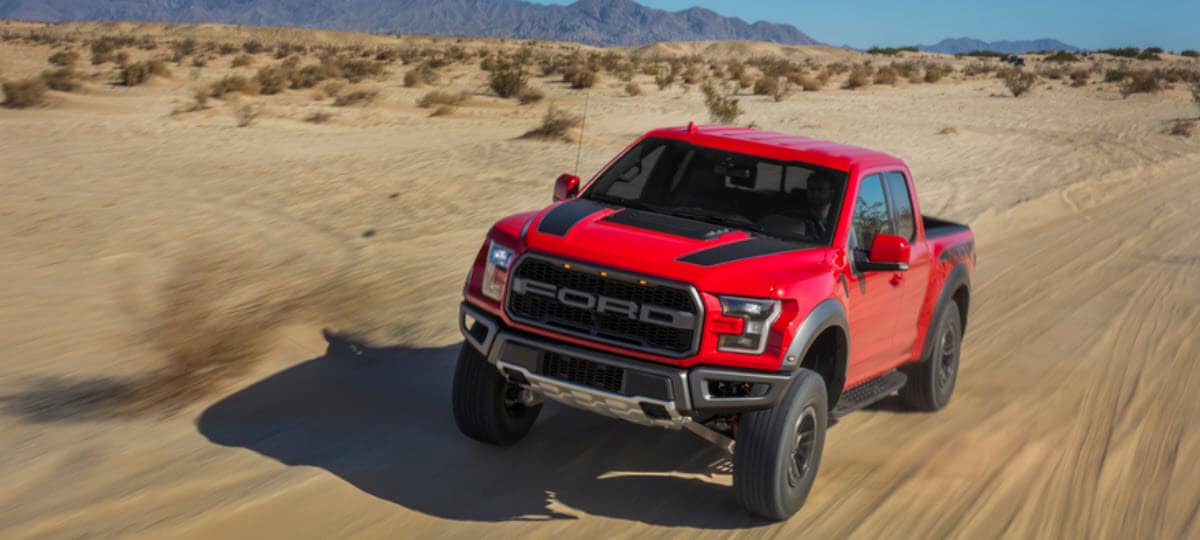 New 2022 Ford F-150 for Sale | Fredericksburg

See What's New with the Legendary Ford F-150 in 2023
A mainstay on the streets of Spotsylvania and Fredericksburg since the 1970s, the Ford F-150 is a beloved pickup truck that's capable of tackling your biggest jobs. For 2023, this fan favorite is a continuation of its 14th overall generation and the team at Purvis Ford is excited to tell you more about it and help you choose the best one for your next pickup truck adventure.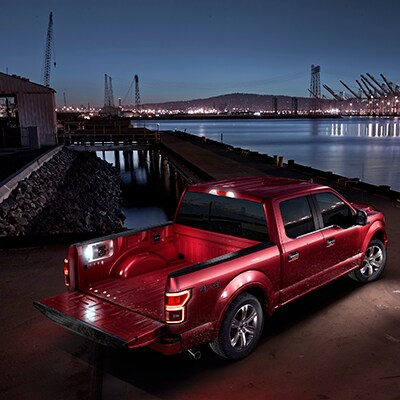 What's New for the 2023 Ford F-150?
Following on the heels of a monumental year for the F-150, which saw the pickup truck introduce King George and Stafford drivers to its first-ever all-electric model, the 2023 version continues to build on the momentum with a new trim level and new special package.
Whereas the Ford F-150 Lightning started delivering groundbreaking EV performance in the familiar, beloved pickup truck style in 2022 , the new 2023 F-150 Raptor R gives us pulse-quickening power and performance from a supercharged V8 engine. This new trim takes its place as the new top-of-the-line F-150 option, and it produces an astounding 700 horsepower and 640 pound-feet of torque.
Elsewhere, longtime F-150 fans will be excited to learn more about the new Rattler Package, which is available with the entry-level base trim, the F-150 XL. It adds off-road performance chops and an adventurous attitude to the well-equipped base trim, with special, knobby tires that can handle any terrain.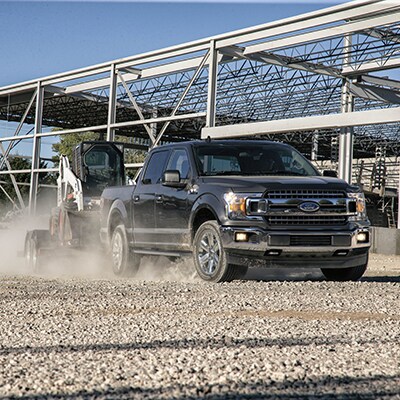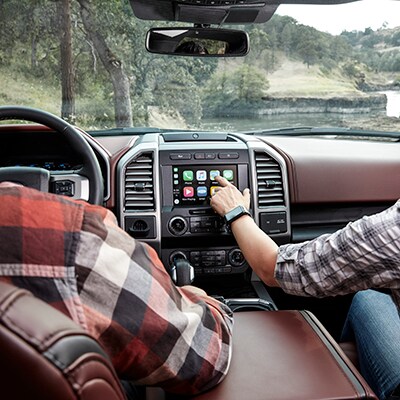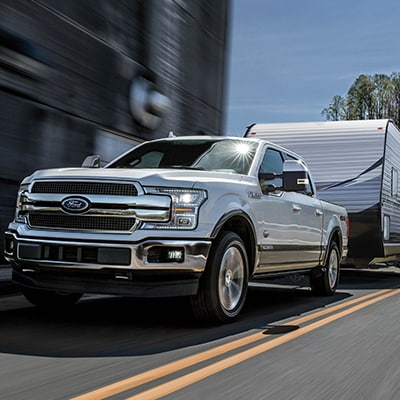 Performance, Power and Utility
In addition to the impressive personalization options listed above, the Ford F-150 also has an extensive selection of powertrains to choose from, with something for everyone. Drivers can take their pick from options such as:
A 3.3-liter V6, which produces 290 horsepower and 265 pound-feet of torque
A turbocharged 2.7-liter V6, with 325 horsepower and 400 pound-feet of torque
A 5.0-liter V8, offering 400 horsepower and 410 pound-feet of torque
A turbo 3.5-liter V6, with 400 horsepower and 500 pound-feet of torque
A version of the turbocharged 3.5-liter V6 that's specifically engineered for the F-150 Raptor model, offering 450 horsepower and 510 pound-feet of torque
The new Raptor R model's specific supercharged V8, with a rating of 700 horsepower and 640 pound-feet of torque
An efficient and smooth hybrid variation, using the turbo V6 engine with an electric motor to produce 430 horsepower and 570 pound-feet of torque
Plus, don't forget to check out the separate Ford F-150 Lightning EV pickup, which has a 580-horsepower rating, 775 pound-feet of torque, and an EV driving range of 320 miles on a fully charged engine.
When it comes to your big towing and hauling tasks, the F-150 is up for anything. Depending on how you have yours configured and which of the above powertrains you go for, this model has a maximum 14,000-pound towing capacity. Additionally, it also has a payload capacity of more than 3,000 pounds, making it one of the most capable and useful trucks in its class.
Innovative Technology
If there's one thing Ford knows better than any other automaker, it's integrating technology with tough pickup trucks. For example, the 2021 Ford F-150 comes equipped with a full suite of Ford Co-Pilot360™ technologies, including the class-exclusive Pro Trailer Backup Assist system. Plus, if you ever need power on the jobsite, the new 2021 Ford F-150 can provide it with its Pro Power Onboard generator with an available 7.2 kW output. And if all that weren't enough, the new 2021 Ford F-150 features the newly updated Ford SYNC® 4 infotainment system with its 12-inch touchscreen display, making it easier than ever to sync up your mobile devices and link up with family and friends on the go without ever taking your eyes off the road or your hands off the steering wheel.
When it comes to capability, you are likely to appreciate what the new Ford F-150 has to offer. This vehicle can tow up to 14,000 pounds when properly equipped. It can also handle a payload of up to 3,325 pounds. Other features include off-road tech. Which will give you a truck that is ready to go just about anywhere.
Features & Tech
If you are shopping for a new truck, you likely want the latest features and tech. With the available selectable zone lighting system, you will be able to stay productive even when the sun goes down. Other notable features include the optional interior work surface. Which will maximize your productivity abilities. The available SYNC 4 infotainment system will give you the benefits of Apple CarPlay and Android Auto connectivity.
The Ford F-150 also offers Ford Co-Pilot360. This advanced safety package will give you peace of mind as you navigate area roads. Safety features include things like:
BLIS with Trailer Coverage
Lane-Keeping System
Pre-Collision Assist with Automatic Emergency Braking
Auto High-Beam Headlamps
Intelligent Adaptive Cruise Control
Rear View Camera with Dynamic Hitch Assist
Pro Trailer Backup Assist
Ford F-150 Trim Levels
The new Ford F-150 comes in a variety of trim levels. Allowing you to get the right amount of truck for you. Ford F-150 trim levels include:
Ford F-150 XL
Offering the 3.3-liter V6 Engine, 2.7-liter EcoBoost V6 Engine, 3.5-liter EcoBoost V6 Engine, 5.0-liter V8 Engine, 3.0-liter Power Stroke Turbo Diesel V6 Engine and 3.5-liter PowerBoost Full Hybrid V6 Engine
Ford F-150 XLT
Offering the 3.3-liter V6 Engine, 2.7-liter EcoBoost V6 Engine, 3.5-liter EcoBoost V6 Engine, 5.0-liter V8 Engine, 3.0-liter Power Stroke Turbo Diesel V6 Engine and 3.5-liter PowerBoost Full Hybrid V6 Engine
Ford F-150 Lariat
Offering the 2.7-liter EcoBoost V6 Engine, 3.5-liter EcoBoost V6 Engine, 5.0-liter V8 Engine, 3.0-liter Power Stroke Turbo Diesel V6 Engine and 3.5-liter PowerBoost Full Hybrid V6 Engine
Ford F-150 King Ranch
Offering the 5.0-liter V8 Engine, 3.0-liter Power Stroke Turbo Diesel V6 Engine and 3.5-liter PowerBoost Full Hybrid V6 Engine
Ford F-150 Platinum
Offering the 5.0-liter V8 Engine, 3.0-liter Power Stroke Turbo Diesel V6 Engine and 3.5-liter PowerBoost Full Hybrid V6 Engine
Ford F-150 Limited
Offing the 3.5-liter EcoBoost V6 Engine and the 3.5-liter PowerBoost Full Hybrid V6 Engine
Ford F-150 Tremor
Offering the 3.5-liter EcoBoost V6 Engine
Ford F-150 Raptor
Offering the 3.5-liter EcoBoost High-Output V6 Engine
Hours
Monday

8:30am-7pm

Tuesday

8:30am-7pm

Wednesday

8:30am-7pm

Thursday

8:30am-7pm

Friday

8:30am-7pm

Saturday

8:30am-6pm

Sunday

Closed