Small Business Owners Can Find a New Ford Transit Van Near Stafford, Spotsylvania, & King George at Purvis Ford
If you're looking for a work vehicle that offers the ultimate in adaptability, you needn't look any further than the Ford Transit van. It's a more than capable cargo van that can do double-duty as a passenger van that can accommodate up to seven people -- and it features the most available seating configurations in its class.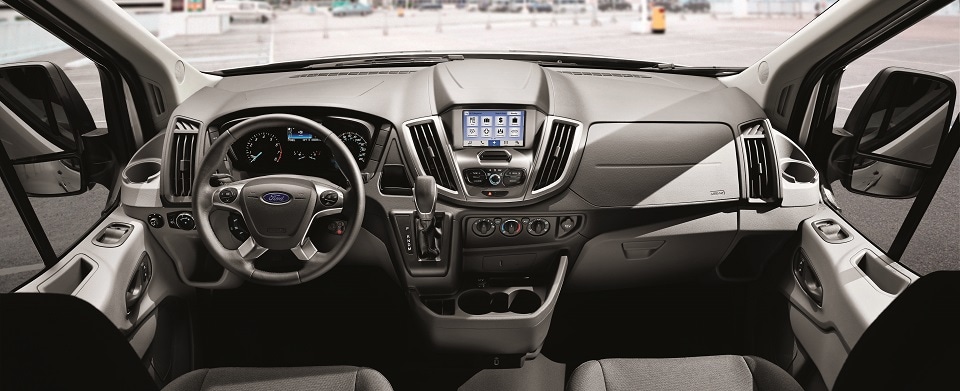 Stafford area drivers can opt for short- or long-wheelbase models in any of the five trim levels with the Transit Connect: XL Cargo Van, XLT Cargo Van, XL Passenger Wagon, XLT Passenger Wagon or Titanium Passenger Wagon. No matter which you choose, you'll have the ability to get in, around and out of any tight spaces you may encounter.
The 2.5-liter inline four engine pairs with a six-speed SelectShift® automatic transmission to make 169 horsepower and 171 pound-feet of torque, so you can count on a consistent display of power when you need it on the roads around Spotsylvania. Fleet orders of the XL Cargo, XLT Cargo and XL Passenger models can be equipped with your choice of optional engine governors that limit the van's top speed to either 65 or 75 mph.
All Ford Transit Connect vans come with standard electric power-assisted steering, electronic emergency brake assist, Anti-lock Brake System, Hill Start Assist and AdvanceTrac® with Roll Stability Control® -- which helps your drivers stay in control whenever the system detects oversteer, understeer, wheel slip or roll motion, as well as maintaining control in icy, rainy or gravelly road conditions.
Standard safety features include Trailer Sway Control, Torque Vectoring Control, Curve Control and a Tire Pressure Monitoring System, as well as a bevy of airbags to protect all rows.
Of course, cargo capacity is one of the top selling features found on the Ford Transit Connect. With the second row of seats folded, the long wheelbase models offer 104.2 cubic feet of storage -- and the short wheelbase models have 77.1 cubic feet. Dual sliding doors are standard, making it easier to load people and cargo, and you have a choice of either a liftgate or rear cargo doors in back.
Whether you're coming from King George or points closer, our Fredericksburg showroom is conveniently located on US 1. We look forward to helping you soon!
What Are My Ford Transit Van Options?
There are three distinct choices that you can choose from when selecting a Ford Transit van here at Purvis Ford. Each one offers something different, while still providing the level of versatility you need, whether it's storage and cargo loading or transport of passengers. We're here to inform you of the options and give you a better idea of the choices you have.
Ford Transit Cargo Van
With the cargo van option, you'll find front and front passenger seating with the rest of the vehicle open for storage and cargo room. It comes in regular and long wheelbases as well as low medium or high roofs so you can find the right fit for your specific commercial vehicle needs. This allows you to add in different accessories such as cargo racks, rails and more so you can keep your equipment and gear organized as you head from one job site to another, or if you need the big space that the van provides for packing moving boxes or other supplies.
Ford Transit XL Passenger Van
With seating for up to 15, you can choose between seven different configurations that range from as low as five seats with plenty of space to spare, up to 15 across five rows on the Transit XL. Whichever configuration you choose, you'll have the space to get all your passengers in and room to spare if needed and you configure it to your needs.
Ford Transit XLT Passenger Van
While it also seats up to 15, the Transit XLT Passenger Van provides added amenities, which includes an upgraded exterior such as chrome accents for a standout exterior, plus added technology including rain-sensing wipers and cruise control available. There's also leather upholstery options for all seating to increase the premium feel of the van for you and your passengers.
The Ford Transit Van Lineup at a Glance
We encourage you to learn more about the different specifications and details for each of our cargo vans and contact us with any specific questions.
Ford Transit Cargo Van Specifications
Three different van lengths: Regular, Long and Long-EL
Three roof heights: Low, Medium and High
 
Two wheelbase lengths: 129.9 inches and 147.6 inches
246.7 cubic feet to 487.2 cubic feet of total cargo volume behind the first row depending on the length and roof configuration you choose
50/50 hinged rear and 253-degre opening doors on Long Wheelbase models
A rearview camera with trailer hitch assist
Cargo tie-down hooks inside the cargo area
Three engine options: a 3.7-lier V6, a 3.5-liter EcoBoost® V6 and a 3.2-liter I5 Diesel
185 horsepower (on I5 Diesel options) to 310 horsepower (on EcoBoost® V6 options)
4,600 to 7,500 pounds of towing capacity and 3,100 to 4,500 pounds of payload capacity depending on the configuration
Ford Transit XL and XLT Passenger Van Specifications
Three different van lengths: Regular, Long and Long-EL
Three roof heights: Low, Medium and High
 
Two wheelbase lengths: 129.9 inches and 147.6 inches
Three engine options: a 3.7-lier V6, a 3.5-liter EcoBoost® V6 and a 3.2-liter I5 Diesel
185 horsepower (on I5 Diesel options) to 310 horsepower (on EcoBoost® V6 options)
A five-passenger seat option (second row triple wide)
Eight-passenger option (second row triple narrow, third row single/double)
Two 10-passenger choices: a second-row double, third row single/double, fourth row triple wide or a second row double, third row single/double and fourth row single/double
Two 14-pasenger choices: a second-row double, third row single/double, fourth row single/double, fifth row single/double/single or a second row double, third row single/double, fourth row single/double, fifth row single/double/single
A 15-passenger option: second row double, third row single/double, fourth row single/double, fifth row single/double/single